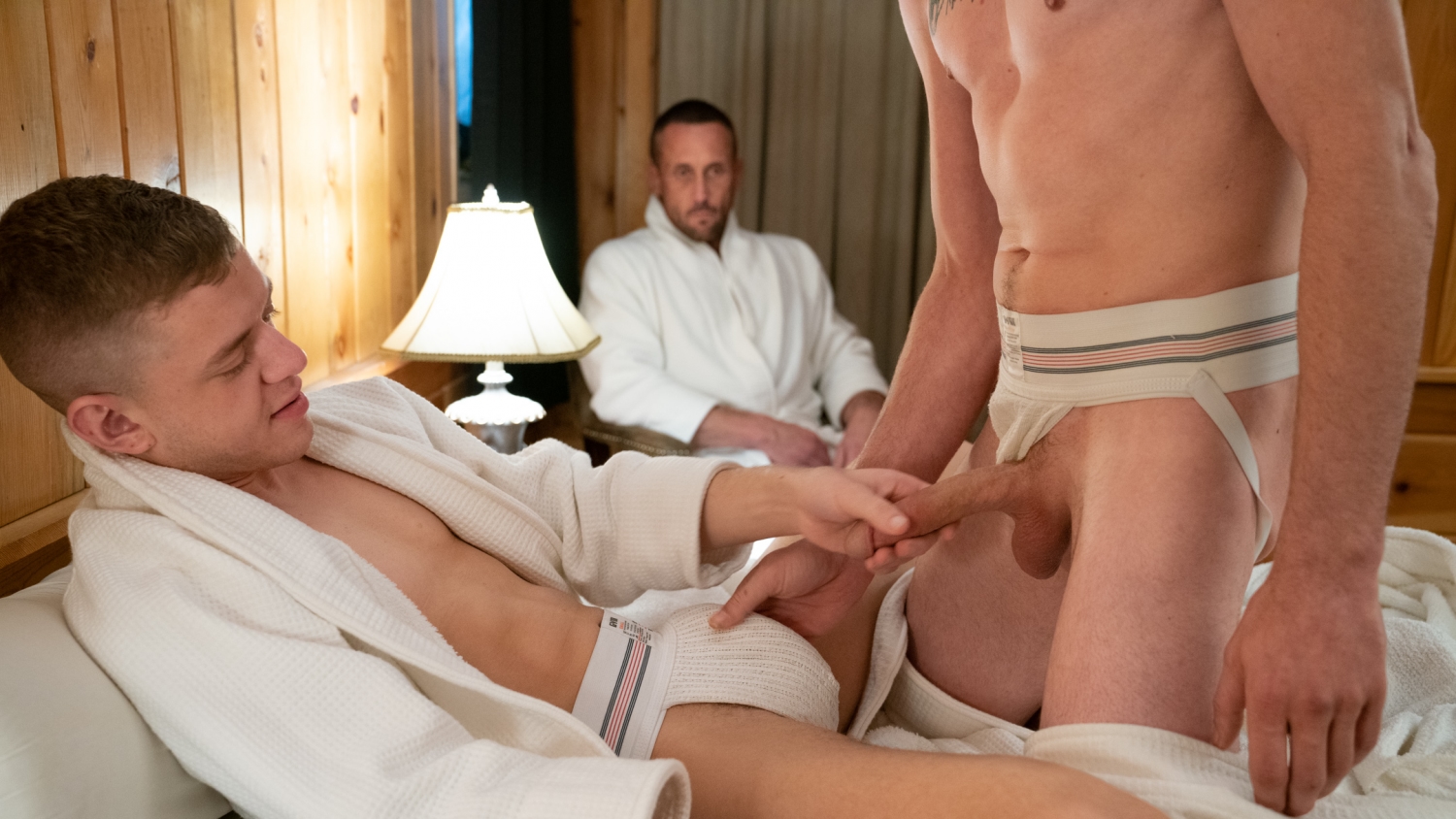 BREEDING MY BOY'S LITTLE HOLE : Tape 6
Watching My Buddy Plow My Boy
The Forbidden Boy Hotel experience involves getting closer to your boy, getting away from the normal trappings of life, and focusing solely on the intimate connection between an older man and a younger man. But there's another part that comes a little harder for each daddy...
When Mr. Landon read what he was expected to do, it gave him a little pause. He loved being with Ian and feeling his smooth skin against his own. But as much as he wanted, he knew he couldn't keep him to himself forever. The instructions were clear that part of their journey meant opening his boy up to another daddy by giving him the opportunity to experience love and affection from others.
Mr. Landon didn't ...
Read more
Mr. Landon didn't want to be jealous, but the idea of sharing his precious, beautiful boy with another man was a hard pill to swallow. Fortunately, he'd gotten to know another daddy in a similar situation.
Mr. Armstrong was similarly protective of his boy and understood the special bond Mr. Landon had worked hard to build. When Ian's daddy asked him to be the one to take his boy's hole, Mr. Armstrong was happy to do this as a friend! Mr. Landon knew he could trust Mr. Armstrong to be careful and gentle with his boy, but still insisted on being there when it happened.
Ian wasn't exactly sure what his dad was worried about. He loved the idea of getting fucked! He was excited just to have a cock in his hole! But Mr. Armstrong being older and wiser knew this would be a big deal. Ian hadn't been with anyone else before, making this his first time in a way...
Trying poorly to hide his nerves, Mr. Landon prepared his boy, hugging and kissing him before setting him on the bed. As soon as Ian was ready, Mr. Armstrong called in his buddy from the next room and took his seat across the room.

Mr. Landon watched as Ian smiled, eagerly excited to get to business. He kept his hands folded, gazing intently on his boy's face, making sure he was okay at every moment. Mr. Armstrong ran his hands over Ian's body, feeling his cock swelling in his jockstrap. He could see the boy's smooth, athletic body as well as his angelic, sweet face. Everything about him made his own cock nearly burst through his jock!
Ian reached for the older man's member, pulling it out so he could stroke it. Mr. Landon moved slightly in his chair, uneasy about seeing his boy with another man's cock in his hand. But as he looked to Ian, he saw his mouth water and his eyes light up. His horny boy wanted to be fucked badly.
Mr. Landon felt his cock rise, turned on by seeing Ian so aroused. He wanted to fuck him right then and there, but knew this was good for his boy to experience. With his legs raised up and his hole presented, Ian looked over to his daddy with a loving smile as Mr. Armstrong began to taste him. Mr. Landon locked eyes with his boy, running a hand over his bulge as his friend gently prepared him to be bred.
It wasn't easy, but it was incredibly hot to see Ian with his legs up, ready to be penetrated. He wasn't just a boy, but a young man. Mr. Landon was proud of him! And now, he got to sit back and enjoy the sight of his son getting fucked. But deep down he knew no matter what or who Ian was with, he'd always be his daddy...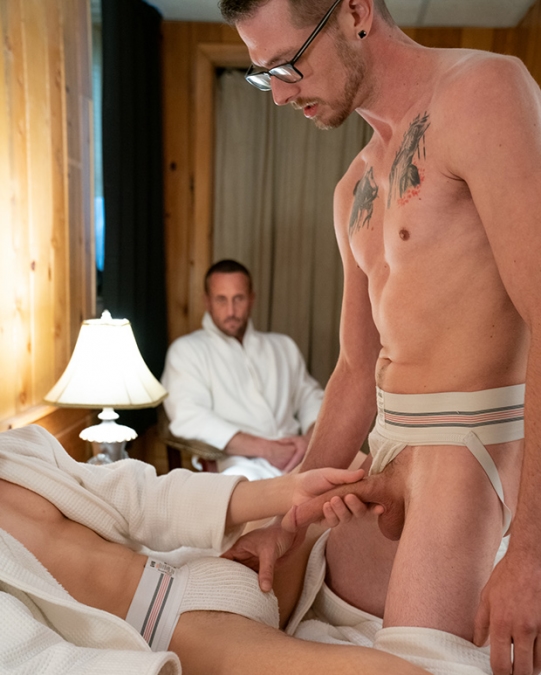 Ian has admired his old man for ages. He's always watched him with awe... And their close bond has always been there. Seeing his dad's handsome face and fantastic athletic body was something to aspire toward. Now that he's grown up, he possesses many of the same features... Obviously his fathers good genes are something to be proud of. Still, no one has it like his dad! As time went on, his fixation became more personal... And eventually he became aware that is was quite sexual! He would find ways to catch glances of him coming out of the shower and at the pool, he loved the way a wet swimsuit would cling to that enormous daddy dick, and he was even guilty of stealing his dad's sweaty jock to inhale his old man's nut musk. He would love to taste him, but knows there are some things that are just too taboo to ask for...
Mr. Armstrong wants to help his little guy out as much as possible. He knows that Austin might be small and look young for his age; and that that can be hard as a young man growing up in the world! At the same time, he can't help but be incredibly attracted to his boy. His boyishness is absolutely adorable. When he looks at him, he can't help but find his appearance unexpectedly appealing. He wants to touch him, to taste him... To be inside of him. It's like his boy's body was made for him. He loves his little guy more than anything else and would do anything for him... Popping his boy's cherry with the cock that made him, and filling his boy with his daddy batter is his his way of making a man out of his handsome son!
Mr. Landon loves his boy more than anything. He's watched him grow into a beautifully handsome young man. A literal adonis... And he can't deny his admiration of his boy's looks and body. A regular chip off the old block! This muscle daddy takes pride in his own body. His smooth, tan skin, well-toned physique, and his thick, meaty dick. When he sees his boy begin expressing interest not just in other, older men, but catches his boy checking him out; he looks for a way to broach the subject and give his boy what he wants. Luckily, with a little deep digging online he's found ForbiddenBoy.com, and sees a way to be closer to his handsome boy... Giving him the love and support he really craves and needs.